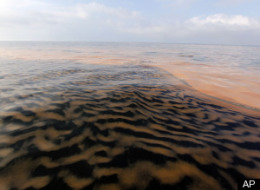 On May 1, Mississippi Congressman Gene Taylor flew over the BP Gulf Spill, and pronounced to his constituency and to the world at large the oil spill is large but it's "not Armageddon." (emphasis mine). Taylor described the spill as a light, rainbow sheen with patches that look like chocolate milk.
The oil is already breaking down by the time it surfaces from 5000 feet down, then on the surface the waves and sun break it down further. The thin sheen is the last of it (emphasis mine).
Hey, Gene and Brian: How's that "rainbows and chocolate milk" thingy working out for ya?
h/t to Broadway Carl and to AP for the picture.